17-8-2017 : Get involved! - 2017 Volunteer Recruitment Announcement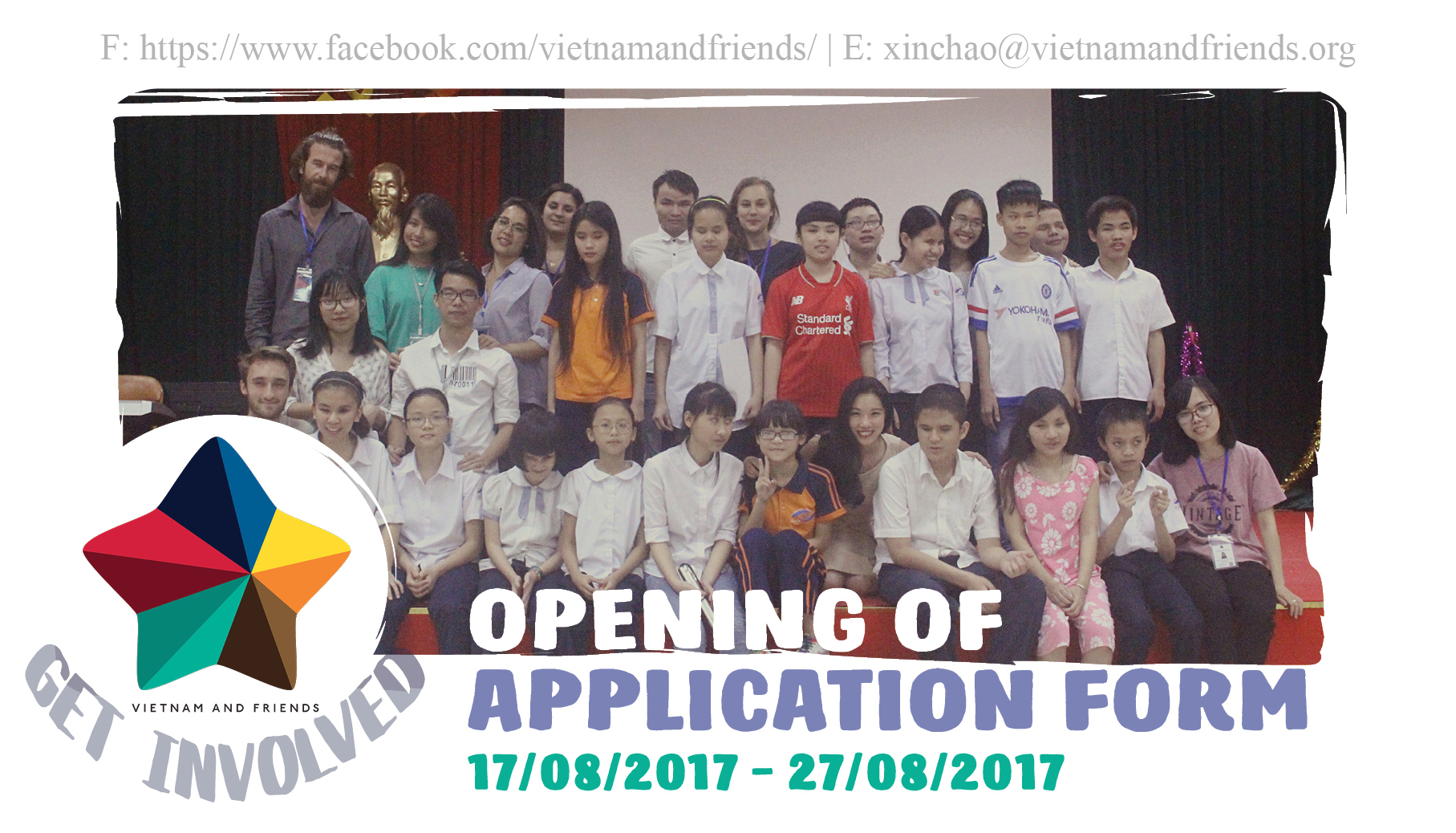 You are now offered a self-challenging, experience-savoring and differences-creating registration form. Would you like to grasp this chance? Become part of Vietnam and friends now!
This autumn, to support and develop VAF's on-going projects, we are calling for volunteers for these following positions:
Teaching English for Visually Impaired People (TE).
Making Teaching Materials (MTM).
Media & Communication (MC).
Graphic Designer and Filmmaker
WORKING LOCATION:
For TE: Nguyen Dinh Chieu School – 21 Lac Trung street - Hai Ba Trung district - Hanoi.
For the others: VAF – 4th floor – 44 Lac Trung Street, Hai Ba Trung distric – Hanoi
WORKING TIME:
For TE: (12:45 – 13:45) | Monday – Thursday.
For the others: Morning: (09:00 – 11:00) and/or Afternoon (14:00 – 16:00)
*Note: Every volunteer is required to participate in at least two sessions per week.
TASKS DESCRIPTION:
1.Teaching English:
This promises to not be your average teaching experience as our visually-impaired students are always full of surprise!
Responsibilities:
Teach English to visually impaired students as a teacher yourself and/or a teaching assistant for International Volunteers.
Participate in conducting curriculum.
Evaluate students' performance
Supporting side event of VAF.
2. Making Teaching Materials:
A job that will test your patience, meticulousness and hand dexterity.
Responsibilities:
Making tactile English, Math teaching materials and Geographical maps.
Design and develop other classroom supplies for visually impaired students.
Supporting side event of VAF.
3. Media & Communication:
Let's express your skills on communication fields and creativeness with your designing work!
Responsibilities:
Elaborating VAF's communication strategies
Enhancing social media sites
Designing promotional materials (event posters, invitation cards, etc.), photographing, filming, etc.
Supporting side events of VAF.
REQUIREMENTS:
General requirements for our volunteers:
Enthusiastic, compassionate and willing to improve social integration of people in need
Responsible, willing to adopt new knowledge.
Commit to actively participate in VAF's project for at least 80 hours.
Specific requirements for different positions:
For TE: good commands of English and good English teaching methods (preferred but not required), patience, and understanding.
For MTM: interest in arts and crafts, creativity, meticulosity.
For MC: familiarity with social media, good writing skills, strategic mind, and experience in MC (preferred but not required).
ENTITLEMENTS:
Volunteers will:
1. Receive training on
Necessary skills for working with visually impaired students, including Teaching, Orientation and Mobility and Braille.
Content Management System (CMS)
Other media and communication skills.
2. Have the chance to be part of a great team, enhance the ability to operate in a professional and multi-cultural environment.
3. Enlarge their circle of friends and broaden their horizon working with local and international volunteers
4. Receive a qualification certificate as evidence of their hard work and devotion.
APPLICATION PROCESS:
Now that you know what position(s) you want to be in, your next step is to send in your application.
There are 3 steps in this application process: Application, Interview and Decision
Step 1: Application
Your first step is to fill in this application form. It is a straight-forward form which will not take too much time.
Step 2: Interview
We will call you for an interview if we feel like you are a good fit for the organization. Attending an interview at 44 Lac Trung Street, Hanoi is required if you want to be a volunteer of VAF.
Step 3: Decision
The hardest parts are now over, and there's only one thing left for you to do - to wait. Careful consideration are made during this time to choose the best candidates;
INQUIRIES:
Should you have further questions, please don't hesitateyou can contact us via:
Email: xinchao@vietnamandfriends.org
Facebook fanpage: https://www.facebook.com/vietnamandfriends/
Visit our Website: www.vietnamandfriends.org