I. EVENT SYNOPSIS
Time: 6:30 – 11:30, December 3, 2016
Location: Ly Thai To Square & the Pedestrian Area around Hoan Kiem lake
Number of runners with disabilities: 187
Number of sighted runners: 466
Number of volunteers: 70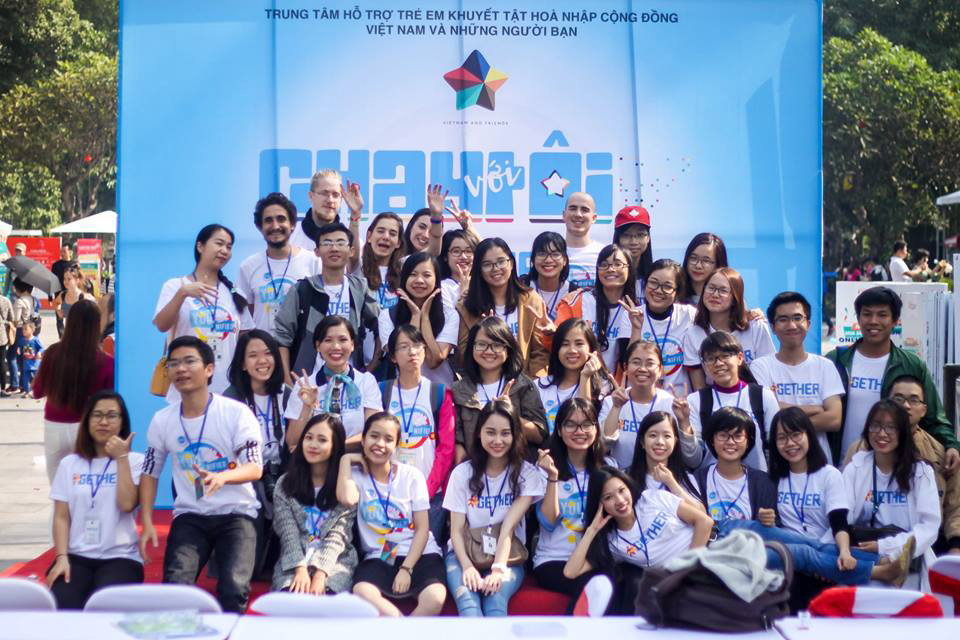 Volunteers of "Chạy với tôi - 2gether 2016"
The event could not have been a success but for the generous sponsorship of:
1. Running with the visually impaired:
This was the first race in Vietnam whose participants included visually impaired and sighted pairs. It went beyond our rosiest expectation: on the 3rd of December from early morning, all our 500 participants for the TOGETHER run were standing at the Check-in point, on the sides of Hoan Kiem Lake located right at the heart of Hanoi. They were sighted people, visually-impaired people and those with other forms of impairments from all age range. All of them were ready for the run. Whether they were laymen or professional athletes, were about to run solo or in pairs, our enthusiastic participants were all animated by the one desire to spread out the positive message: let's run together, no matter our differences!
Once the pair-up session finished and guiding persons were given a brief training for guiding skills, all of the runners launched themselves into the race around Hoan Kiem lake.
Two different routes were proposed: one of 1.7 km and the other of 3.4km, which were equivalent to one round and two rounds around Hoan Kiem lake. Every time a runner crossed the finishing line, the crowd roared its encouragement and praise with elation. Those were the moments of jubilance when bounds are broken and of ecstasy filled with hugs and smiles.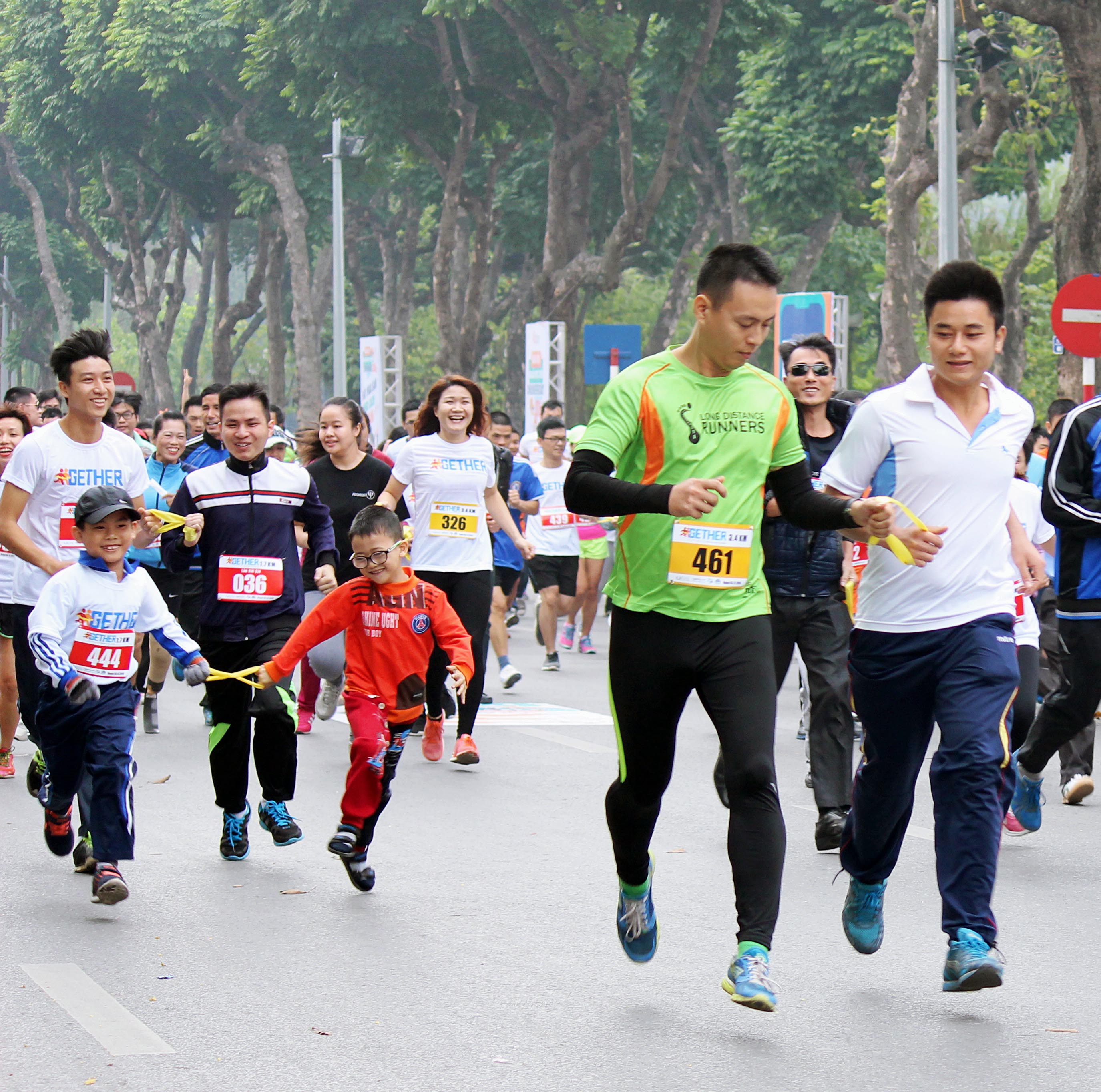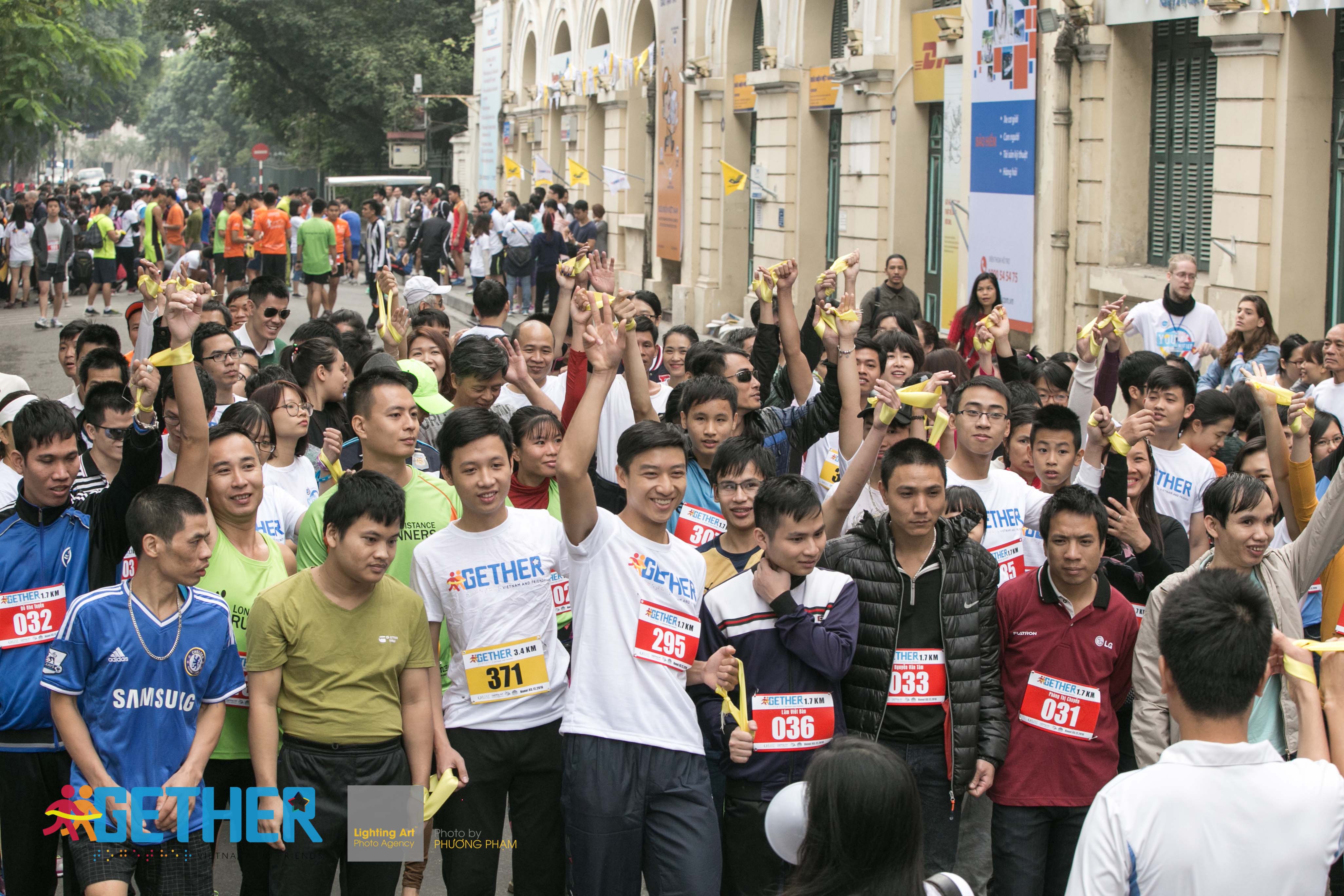 647 runners set off Guiding skills training for guid-runners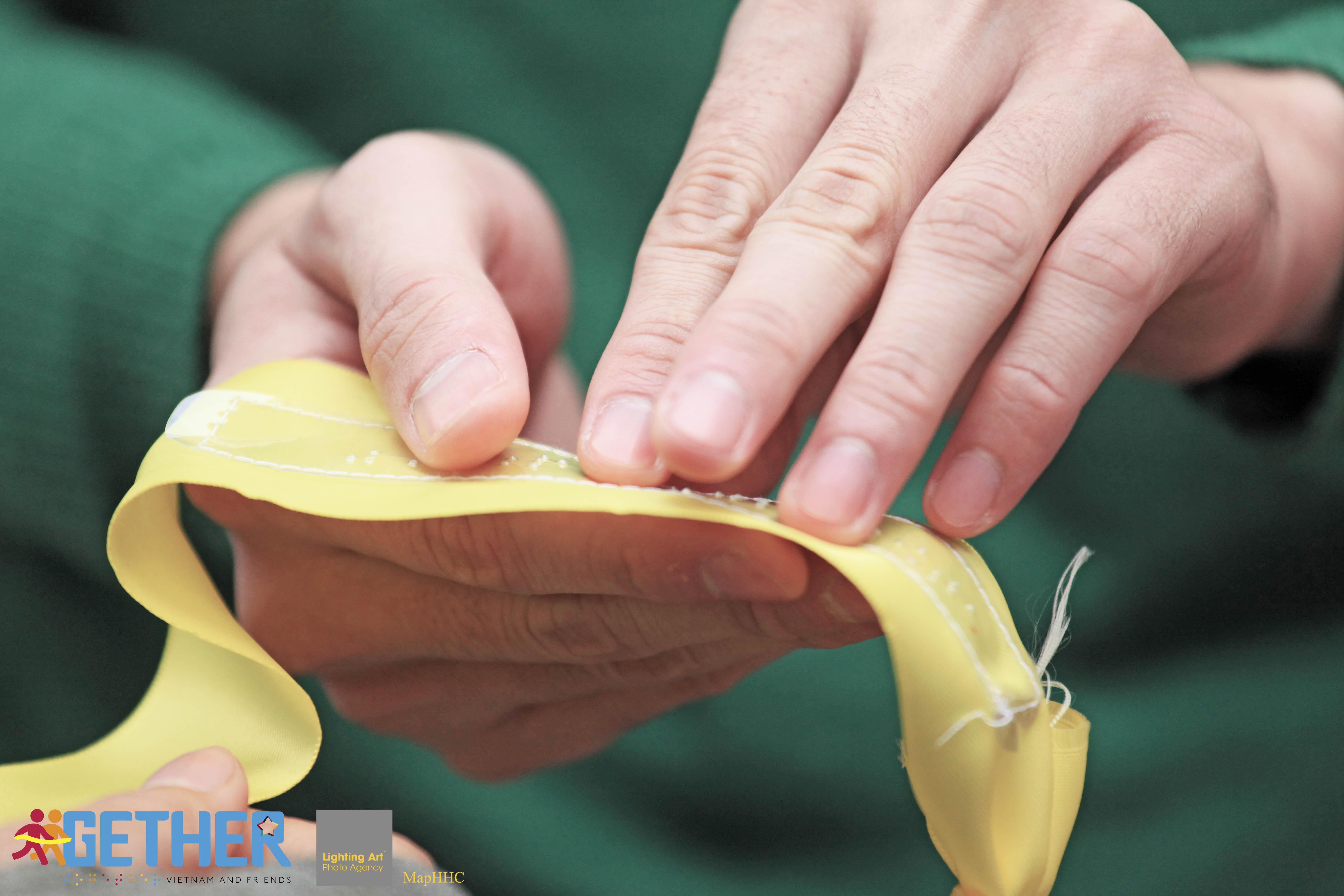 A blind runner reading the "2gether" printed in Braille on the yellow string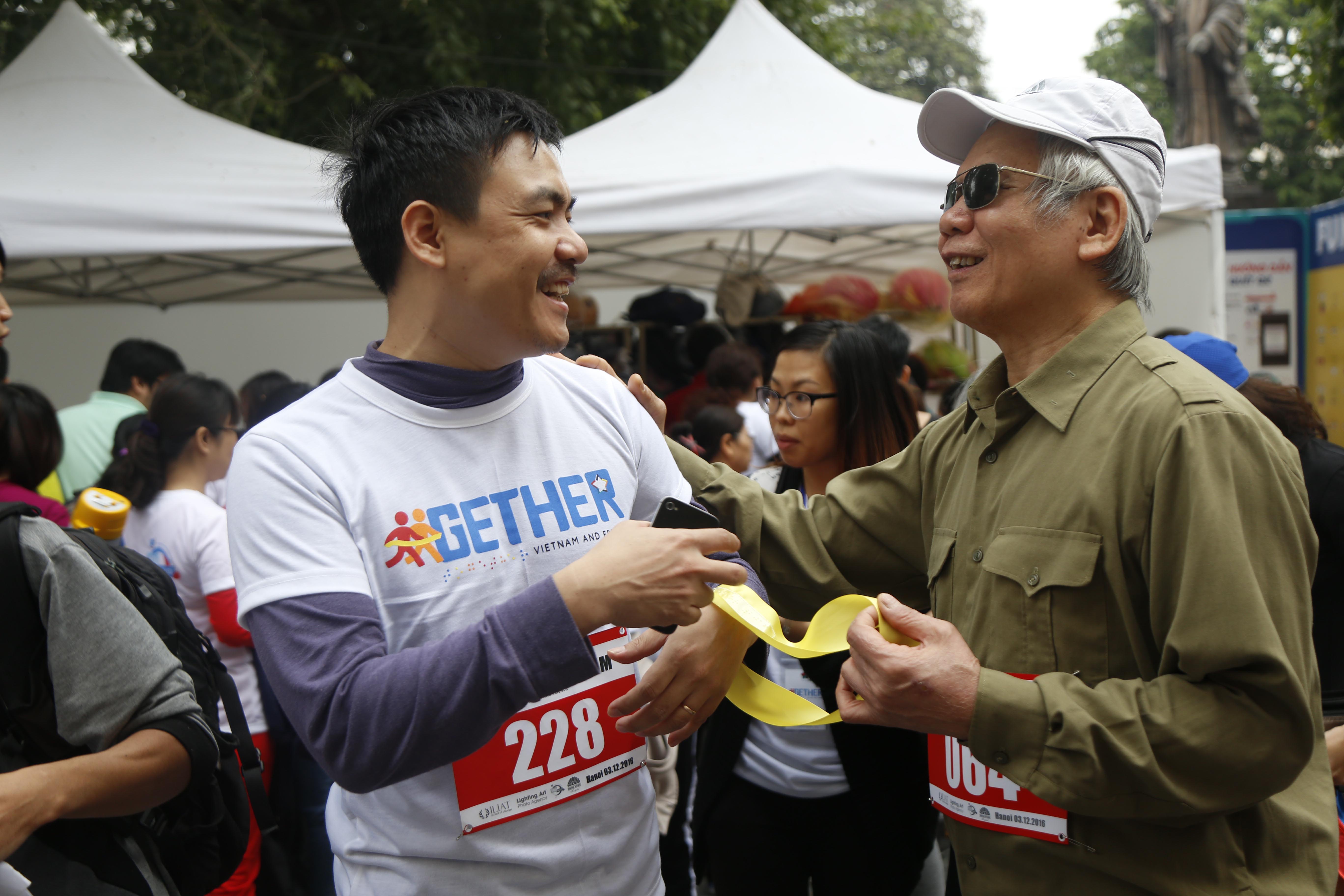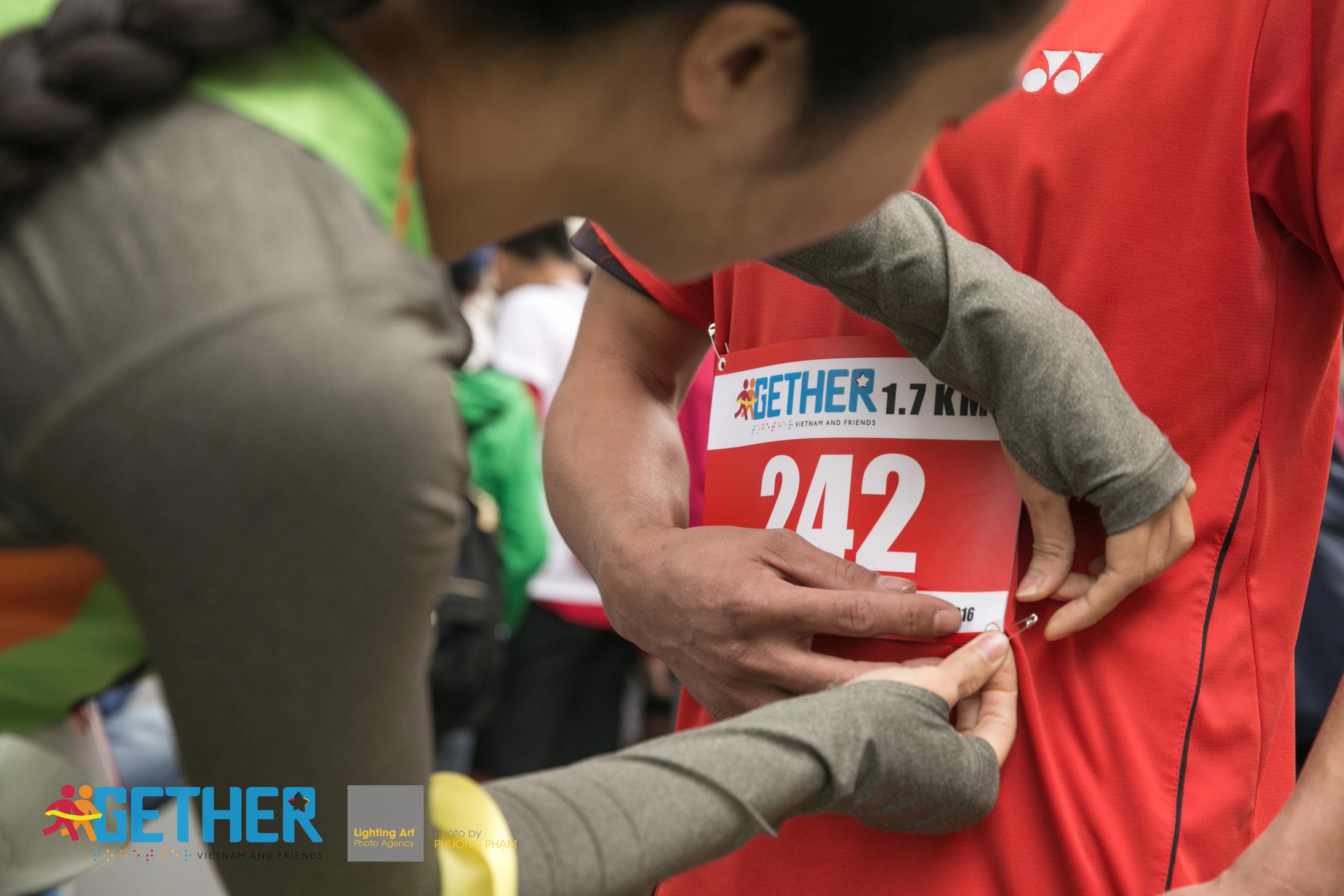 A guide-runner welcoming his partner A guide-runner help her partner to wear the BIB
In the end, the first prize of each category found its winner.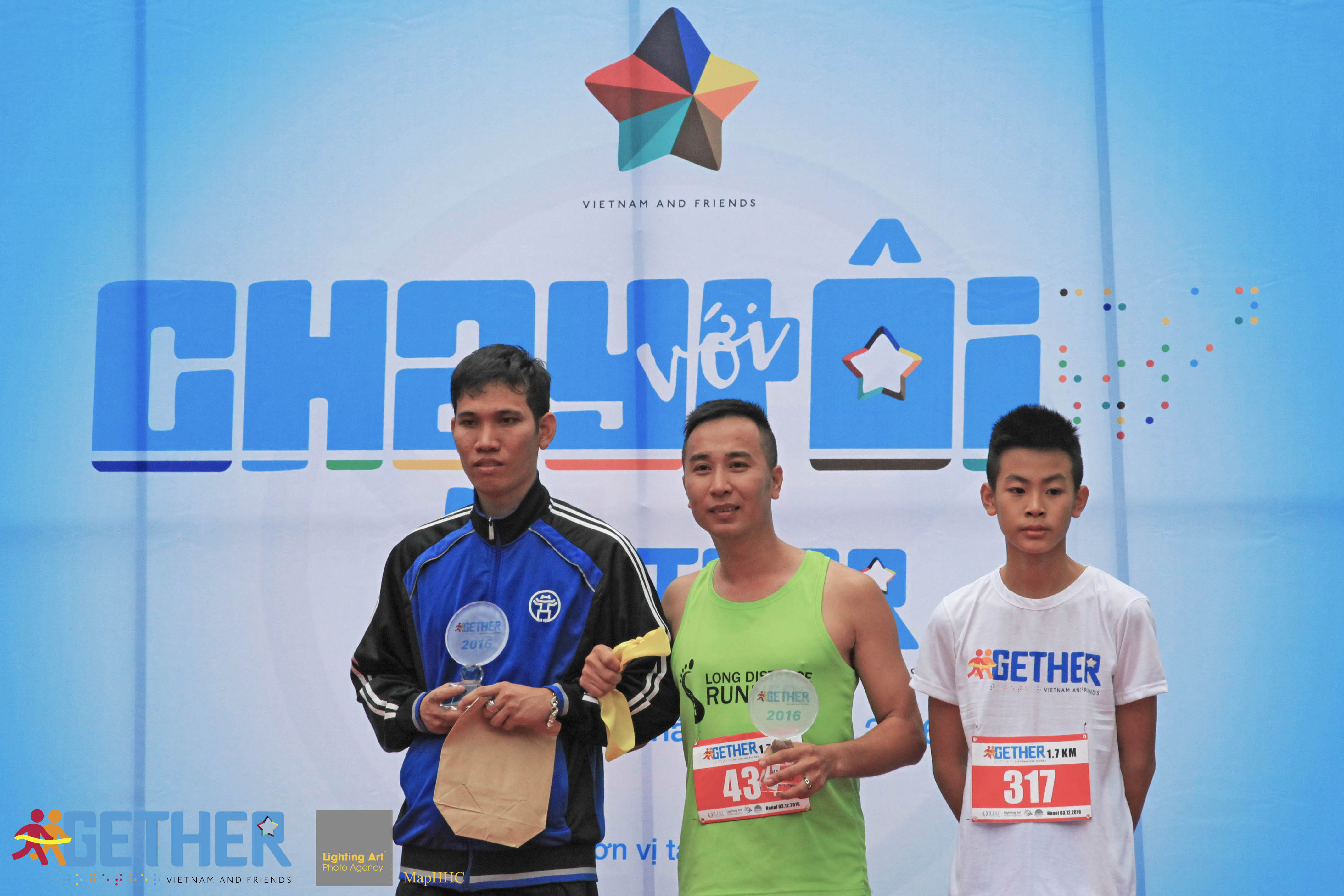 The 1.7km route winning pair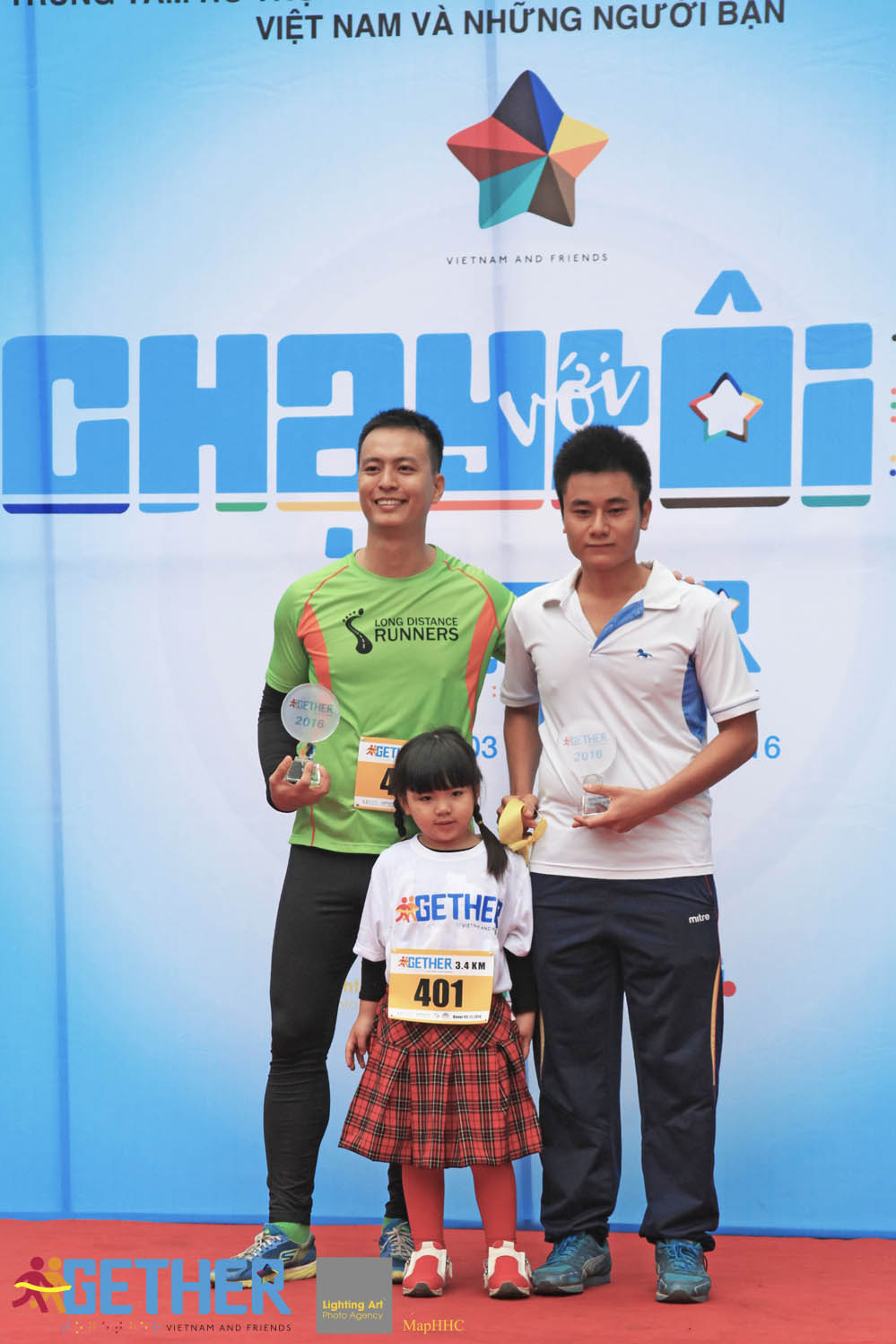 The 3.4km route winning pair
Lê Hoàng Vĩnh Hưng & Nguyễn Đình Hiệp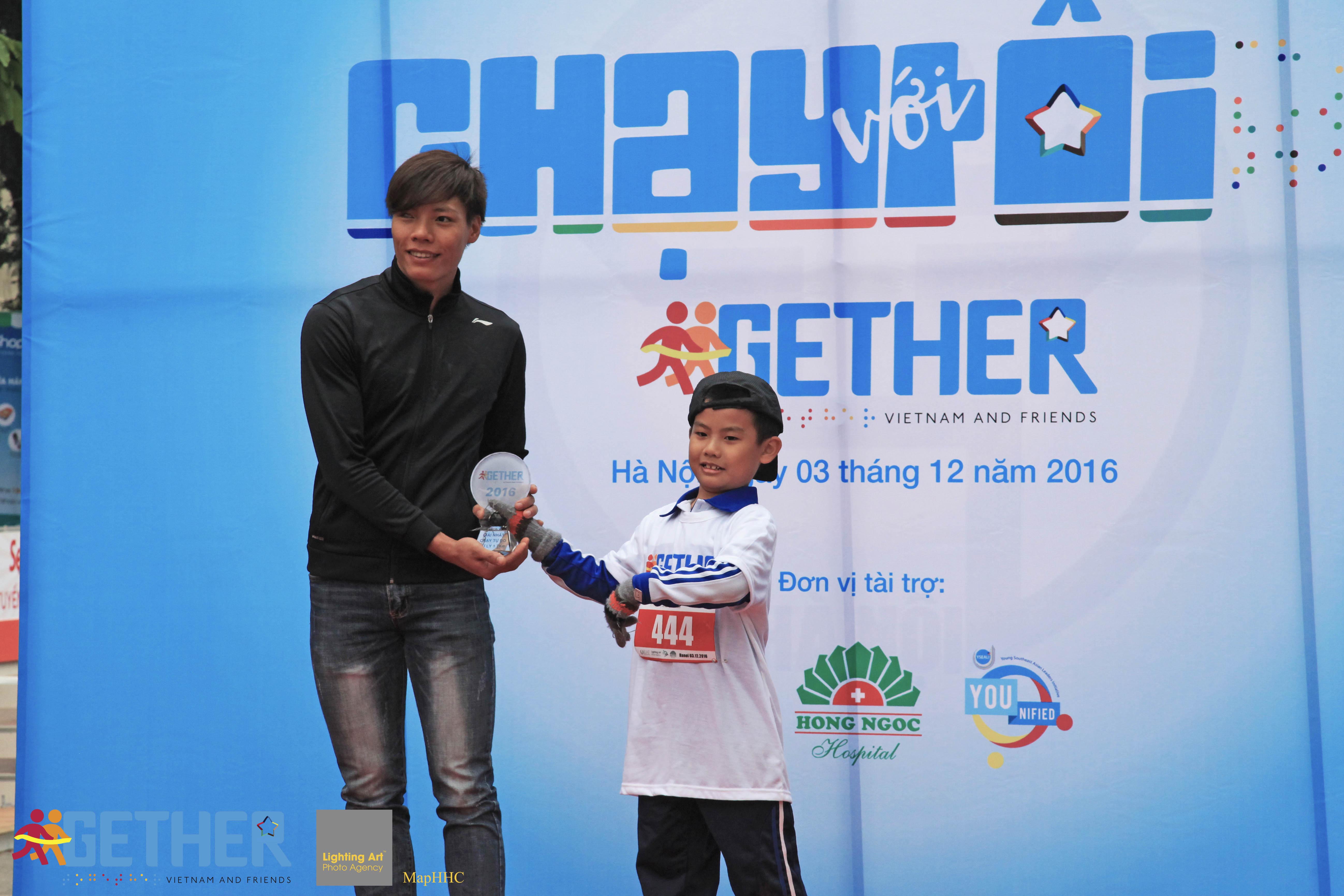 1.7km route winner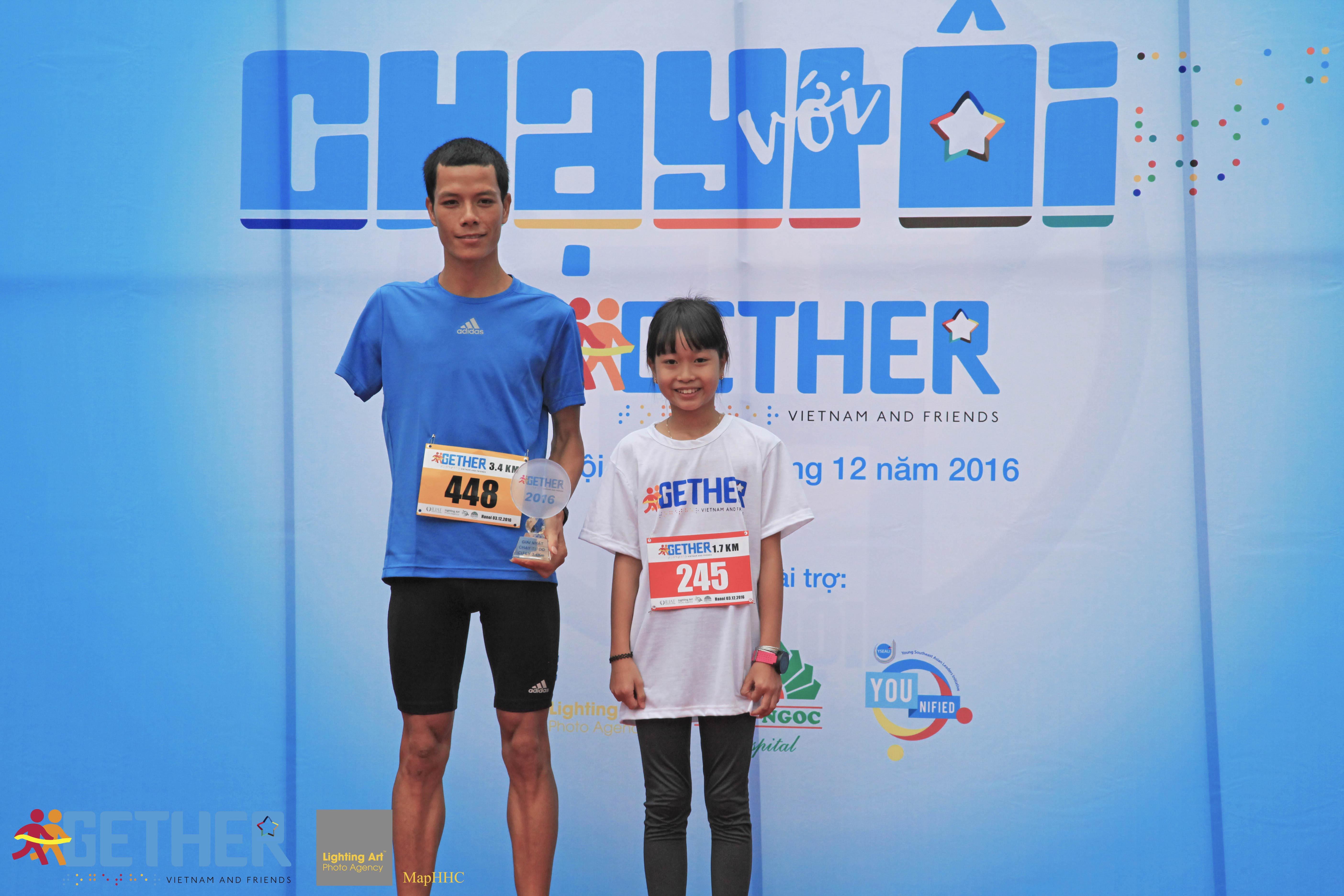 3.4km route winner - Trần Văn Đức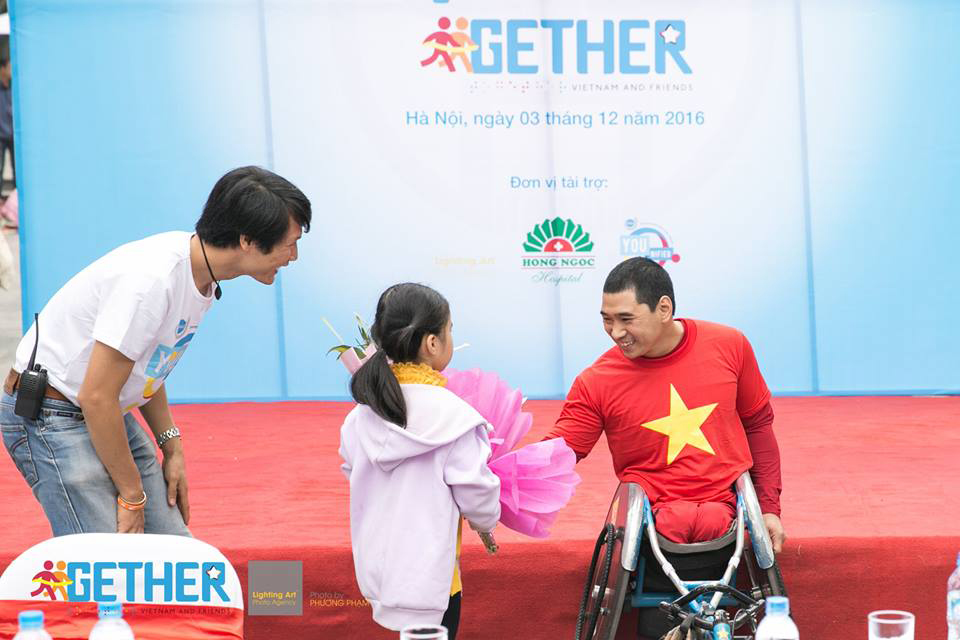 1.7km wheelchair route winner - Trần Phúc Đạt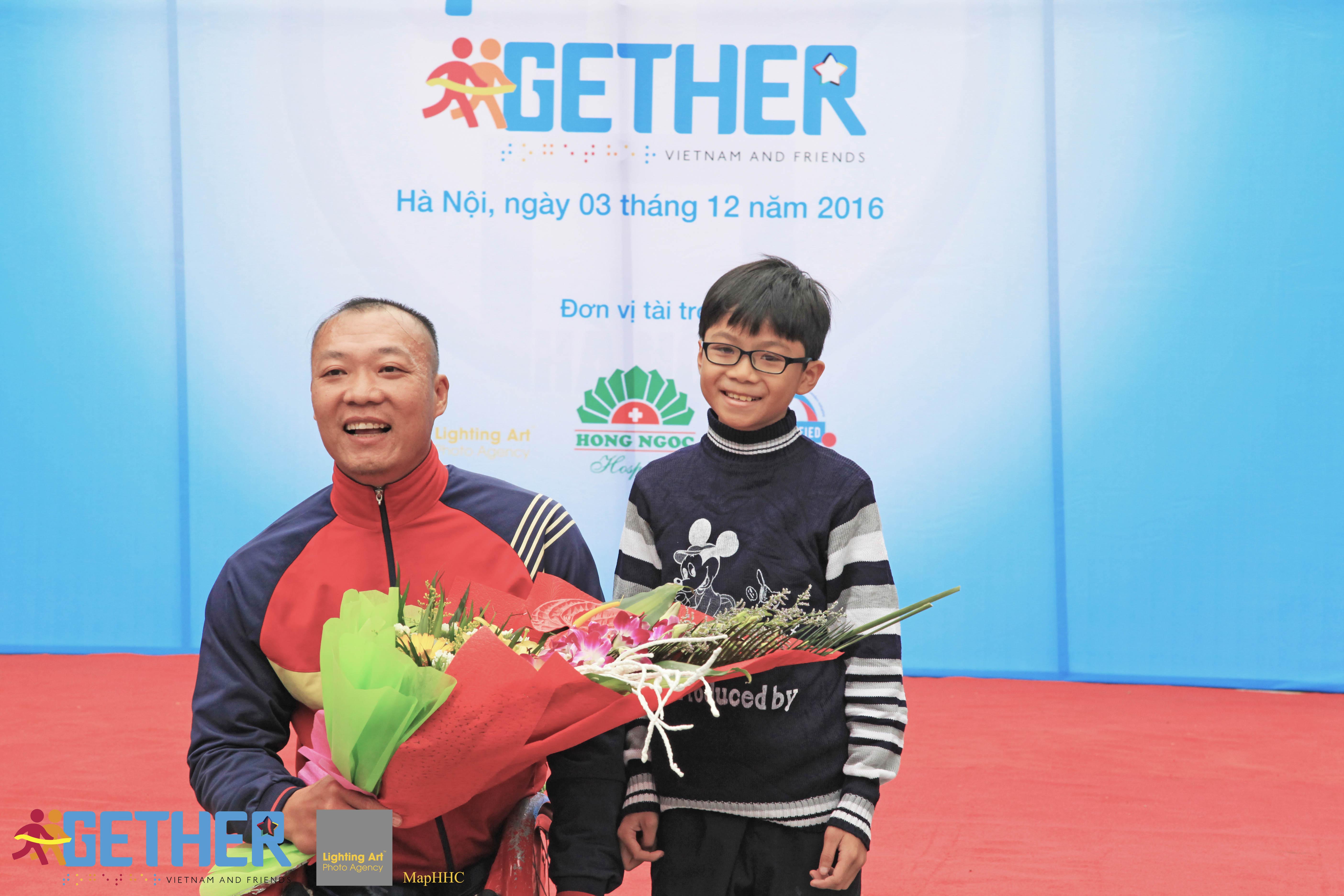 3.4km wheelchair route winner - Phạm Hồng Thức
2. Experience Corner
The running event was then followed by many fruitful activities.
2.1. Playing chess with the visually impaired

For this activity, three chess boards were prepared. Sighted and visually-impaired players competed in friendly, yet very exciting matches. To our amazement, all of the blind players from Hanoi Sport Center for People with Disabilities were defeated by no sighted opponent!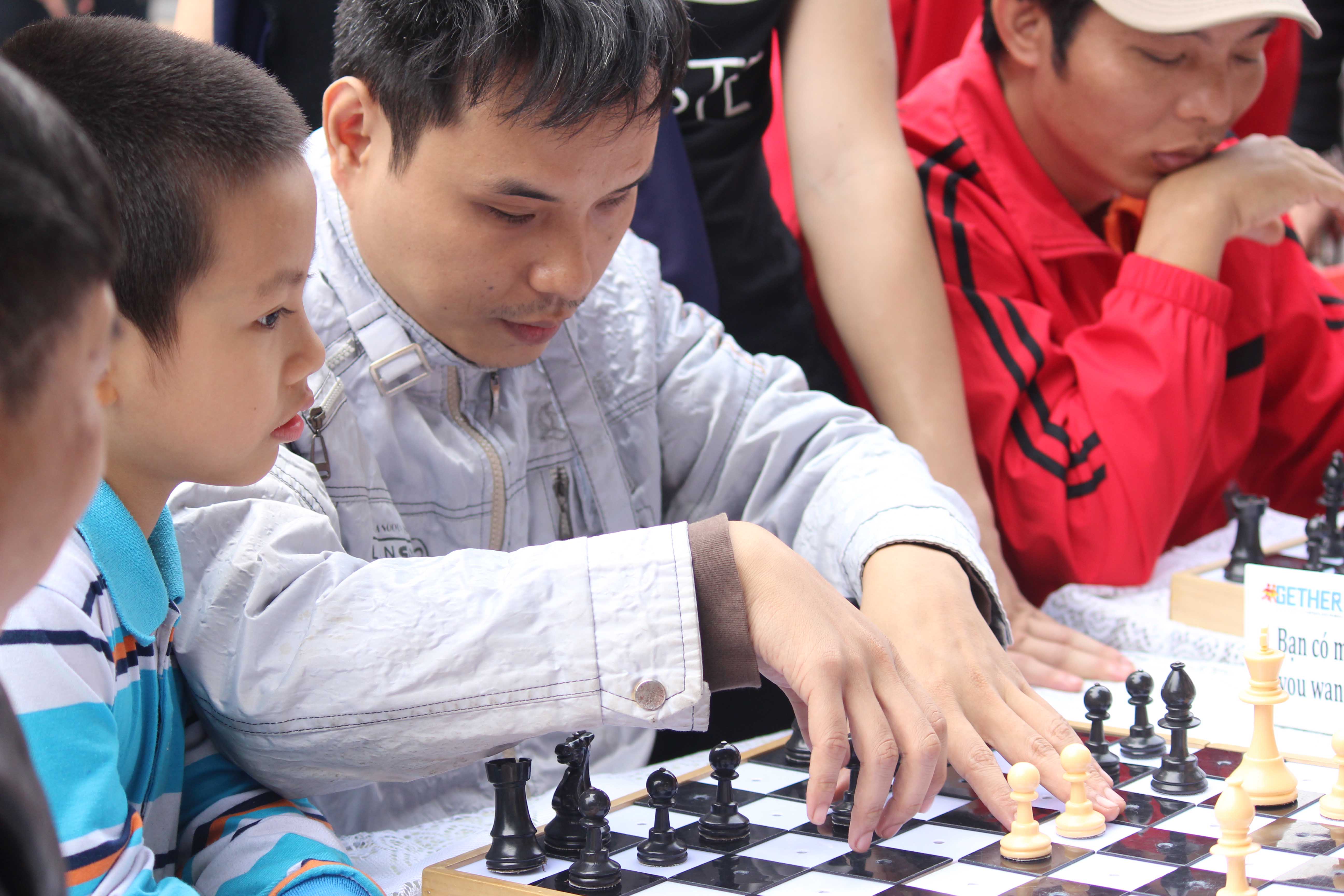 Playing chess with the visually impaired
2.2 Learning Braille, Mobility and Orientation skills
On one side of Ly Thai To Square, arranged 6 tables where participants were able to learn to read and write Braille as well as to utilize the white cane for mobility and orientation under the enthusiastic guidance and support of VAF's international and local volunteers.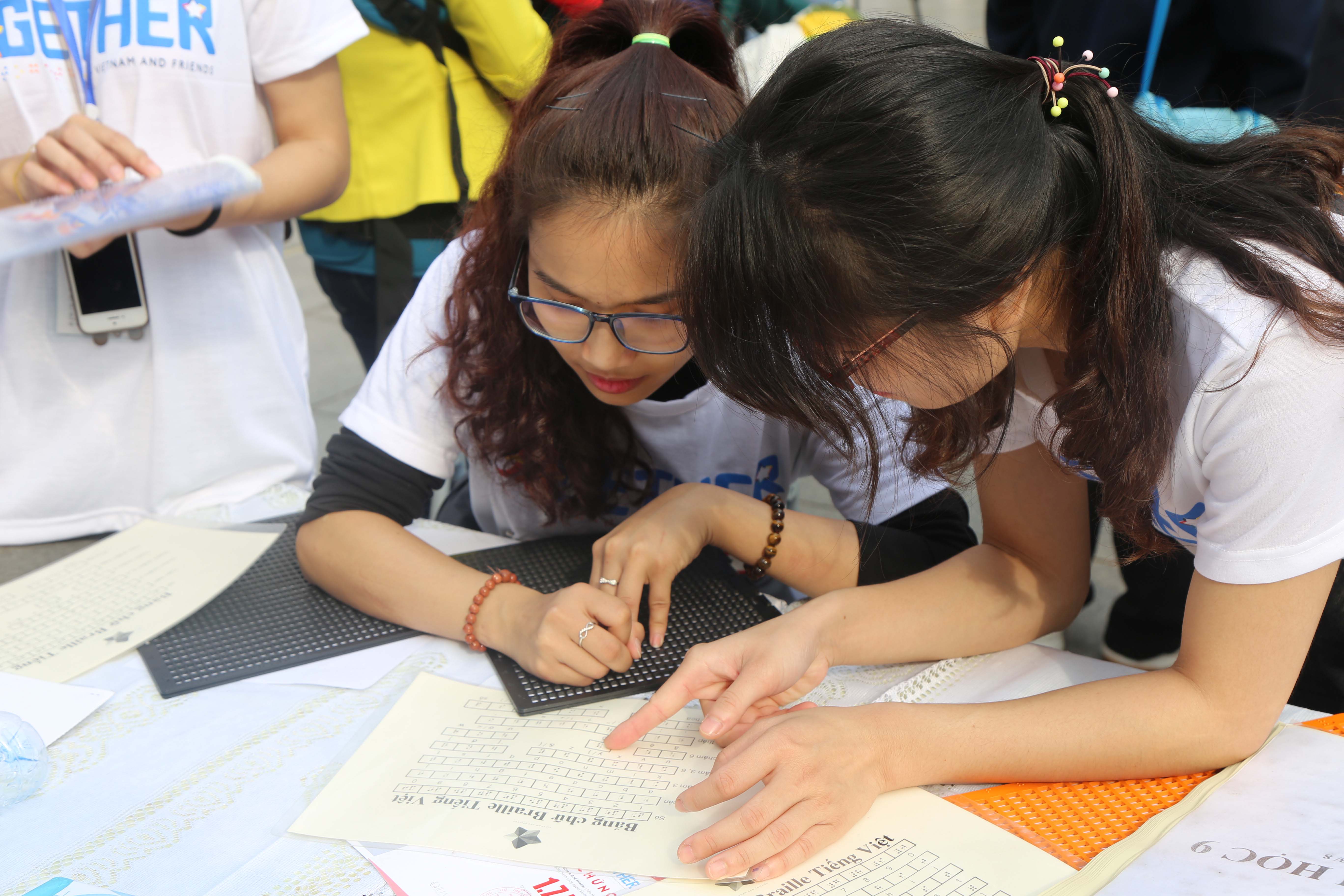 A volunteer showing how to write and read Braille.
Many blind and visually impaired runners came back to the experience corner to assist their partner in learning Braille and making use of the white cane.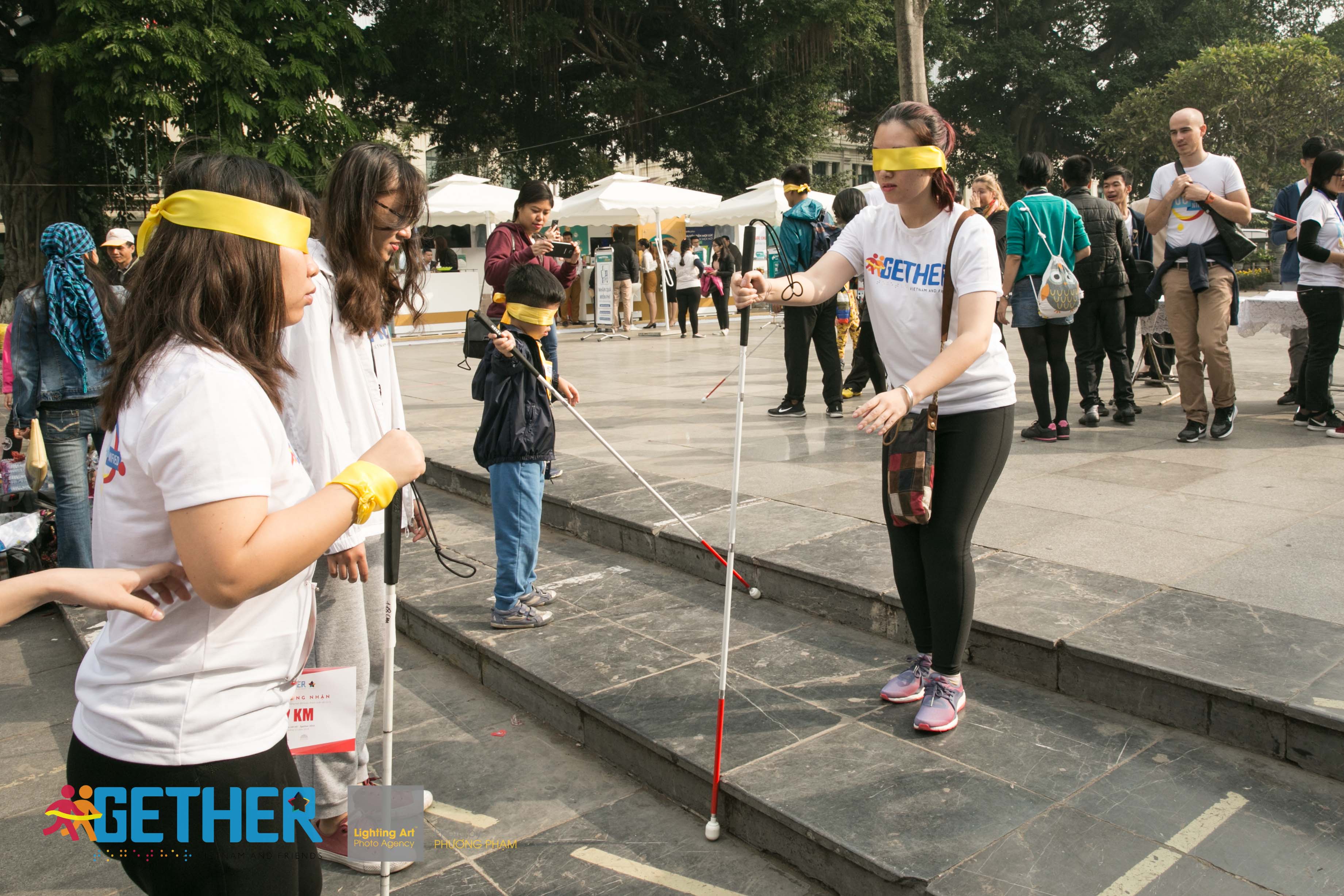 Learning how to use the white cane
2.3 Through the eyes of the visually impaired
We prepared glasses that imitate 3 types of visual impairment, including Loss of Central Vision, Loss of Peripheral (Side) Vision and Blurred Vision. Such experience was expected to give the participants an insight into the life of blind people.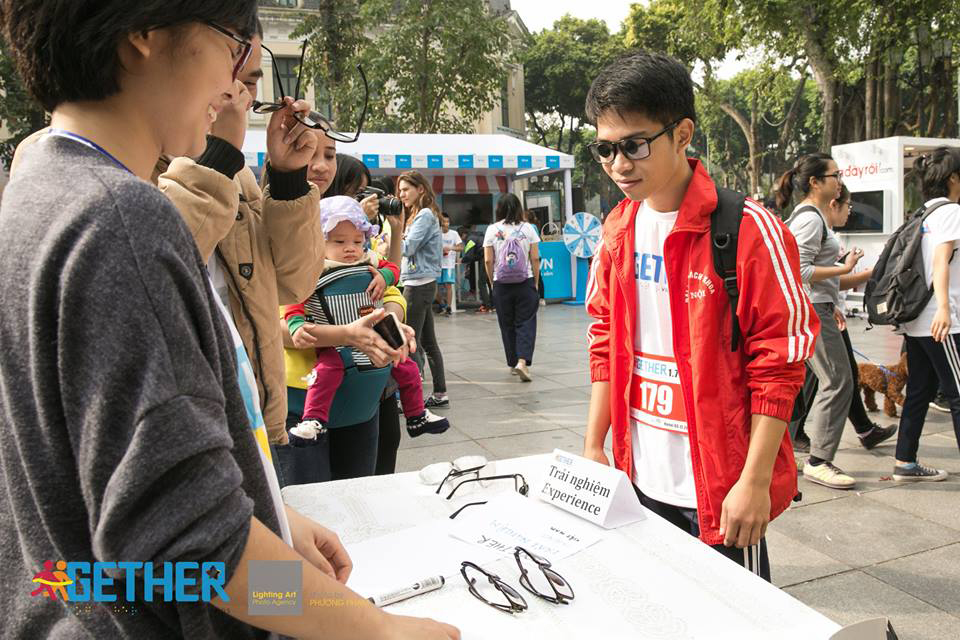 A runner trying the glasses imitating three types of visual impairment.
2.4. Bottle Recycling Booth

Along as aiming to promote the social integration for visually impaired people, VAF also embraced this chance to draw the public's attention to the importance of reducing littering in daily activities. In this activity, a group of high school students of The Russia Embassy introduced various way to turn plastic bottles used along the running track into creative and appealing products with the use of paints primarily. This recycling booth attracted a lot of participants, especially children.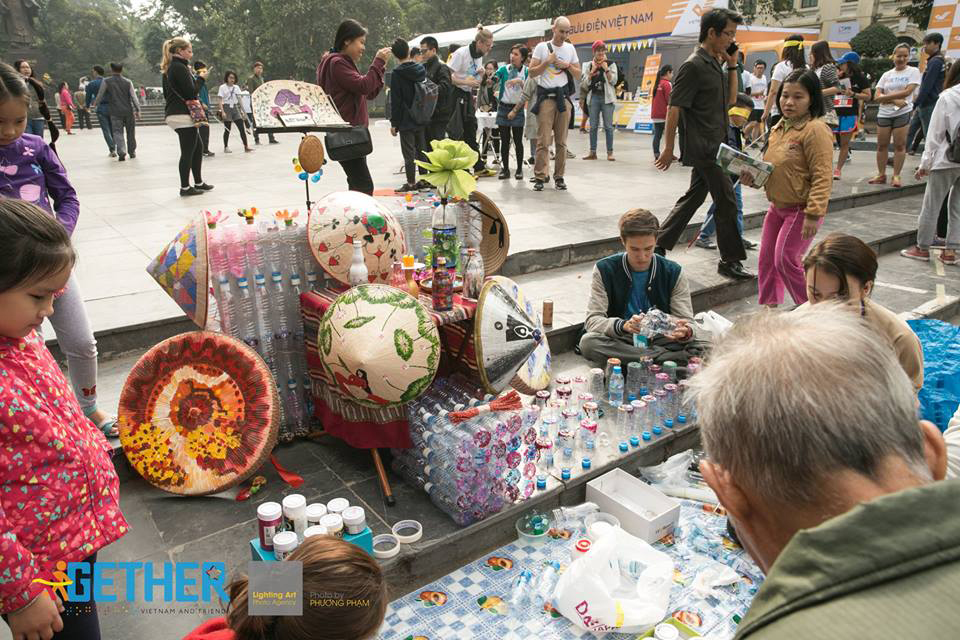 The bottle recycling booth

II. HEART WARMING STORY
Mr. Hai Van Khuc – an IT Technician – blind runner at Together shared: "It's been an hour since I got home from the event and now I'm writing this to express my sincere gratitude firstly towards VAF team for bringing us such a worthwhile experience. I'm also very thankful for the enthusiastic assistance of all the volunteers, for the generous support of the sponsors. It was all of you who enabled us, the blind and visually impaired, to relish this unforgettable day of people with a disability - December 3rd. I wish you all good health and happiness. I really look forward to such fruitful event in the future"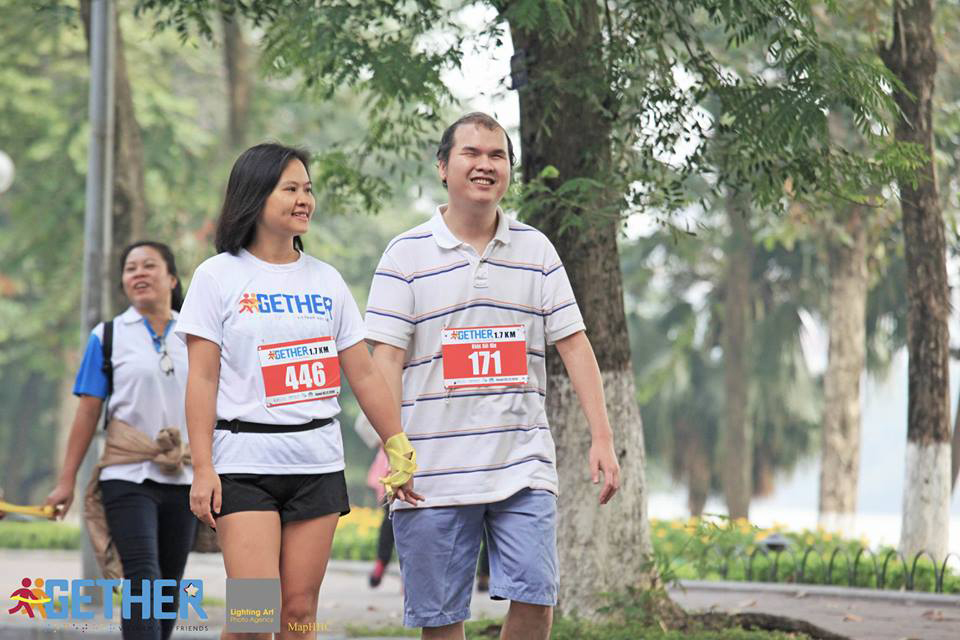 Mr. Khuc Hai Van and his guiding partner
 
Mr. Hoang Le Vinh Hung (Hanoi) – winner of the 3.4km route spoke with ecstasy to VTV6 reporters: "This is the very first time we meet each other and become partner in this run. Even so, you see, we were a well-matched team and the run went incredibly smoothly. Hiep, regardless of his visually impairment, is indeed a very good runner. Sometime,s during the track, it was Hiep guiding me but not vice versa. This is also the first time that running appear to me as a community activity, as a team sport!"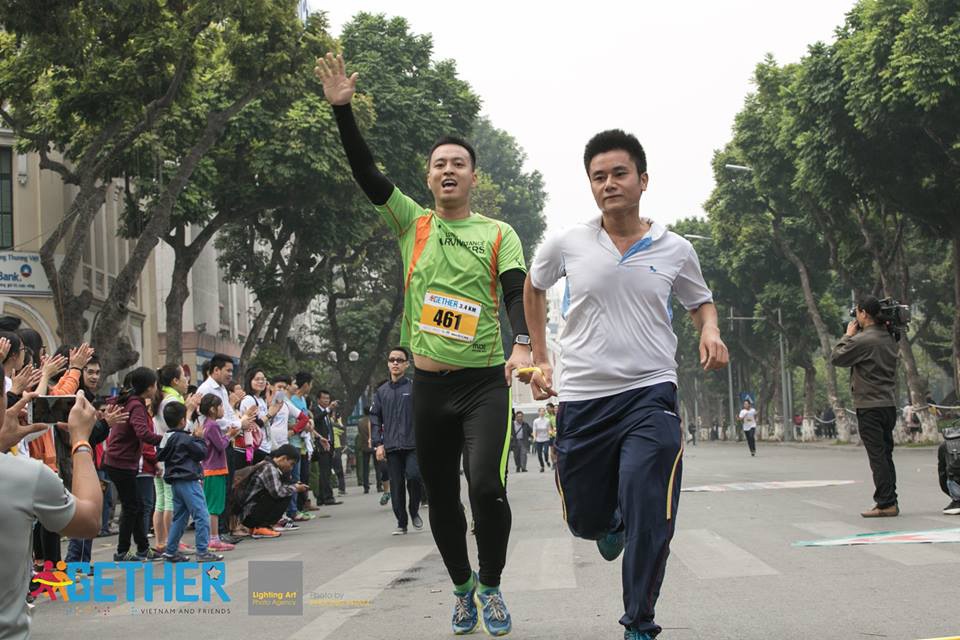 Mr. Hoang Le Vinh Hung and his blind partner sped up toward the finishing line
 

Mr. To Hieu Trung (Hanoi) decided to accompany another blind runner to finish his 3.4 km route after having just finished his 1.7 km route guide run. He said "My partner in the 3.4 route appeared to be quite tired at the time so I asked him why he would still want to run. He answered sincerely that he wanted to run as much as he could to make up for the very long time his body was oppressed because of his visual impairment. We then sped up, he got tired again at one point and we slowed down. I was so concerned about his health condition that I told him "The speed doesn't matter, choose one that you feel comfortable with, just do not let go of this string. It connects us emotionally, such connection that gives us strength, which I can feel very clearly. So just don't let go of it, don't give up on this". We, VAF team then wonder whether this was the reason behind the blind runner's gratifying and radiant smile captured in this photo.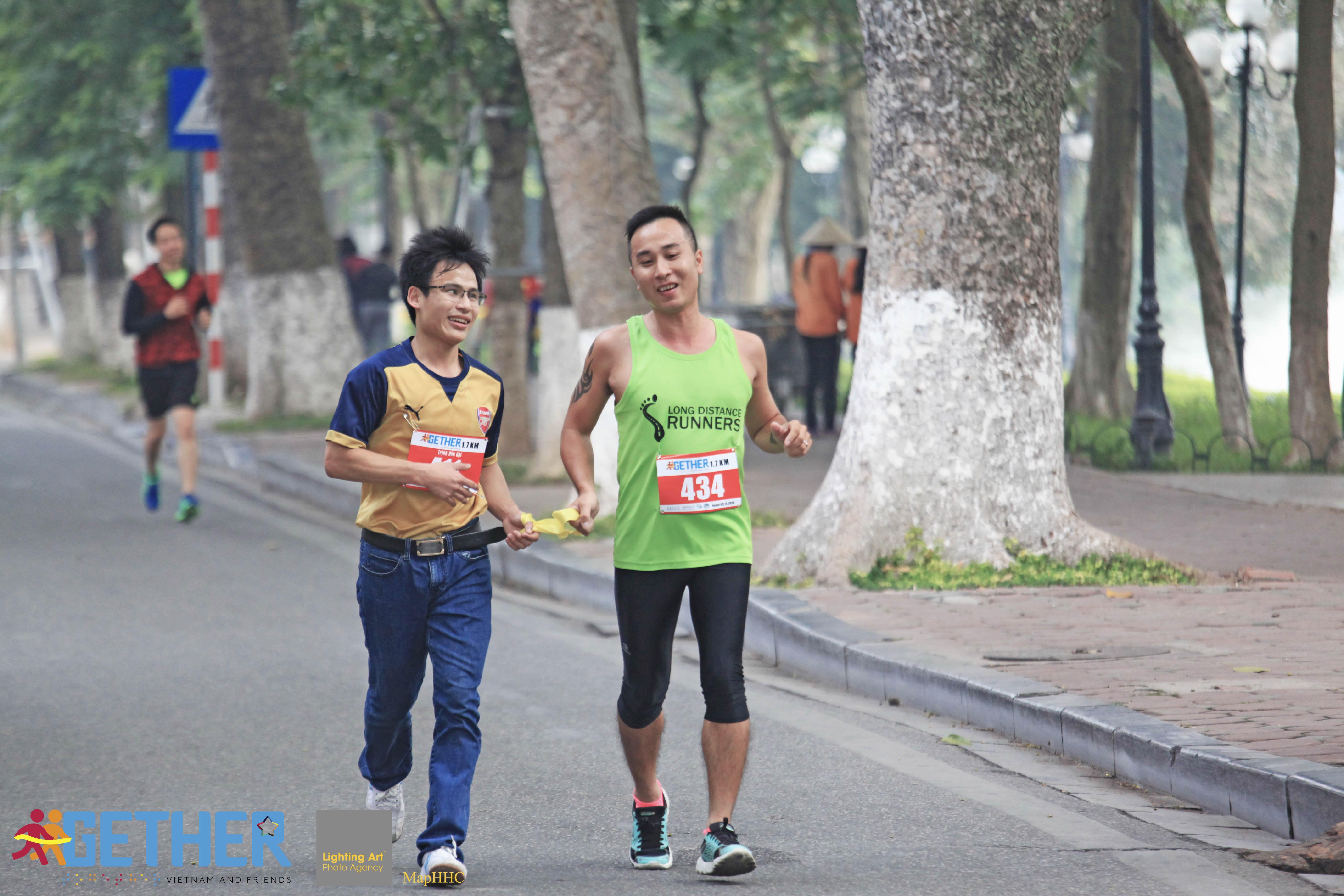 Mr. To Hieu Trung and his partner in the 3.4km route.

Ms Le Thanh Phuong (Ha noi) shared on her Facebook account: "Mr. Quy, a journalist working at the Labour Publishing House, lost his vision 15 years ago. Regardless of his impairment, Mr. Quy bears no malice to life and refuses to self-pity. Indeed, he told me again and again "You don't have to run too close to me nor stick to me like this. I can run on my own". Mr. Quy and I, we accomplished the 1.7 km route around Hoan Kiem lake. During the track, he ran as well as any sighted people would, while I crossed the finishing line being stunned by the amazement and a concealable sense of achievement.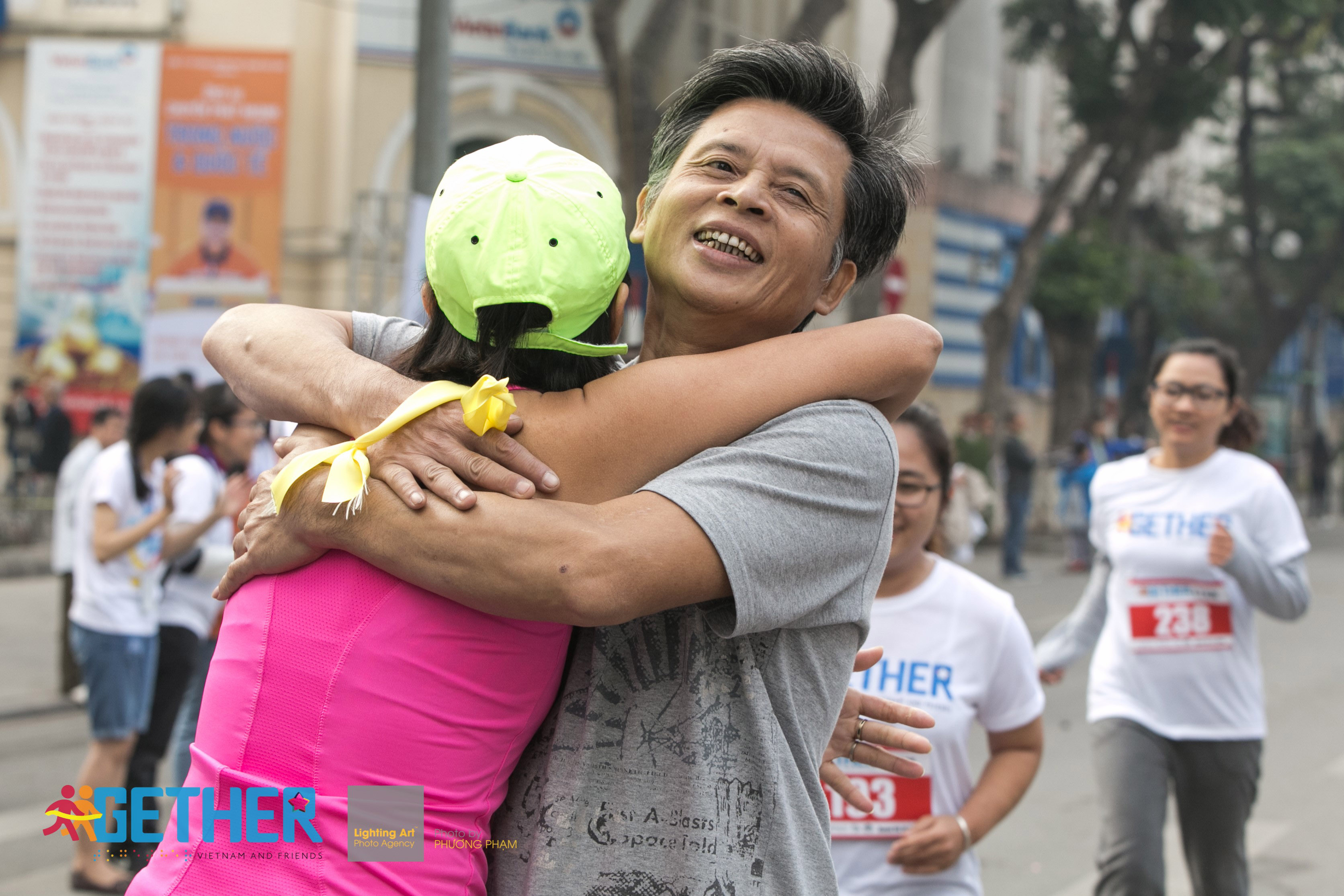 Final report